Welcome Huskers!
Watch Parties are at Fox and Hound. Check our Watch Parties link for address and directions.
Ready for football season? Get ready and wear your RED!!!
Want tickets? Please contact the University of Nebraska Alumni Association or the University of Nebraska Ticket Offices. The Chapter will not be handling any ticket requests this year.
------------------------------------------------------------------------------------
Houstonians 4 Huskers
This year's board members are as follows:



Roy Fiala - Chapter Coordinator/University Liaison
Joe Uphoff - Website/Watch Party Coordinator
Ross - Website/Watch Party Coordinator
Roy Fiala - Watch Party Coordinator
Bill  Reitan - Financial Coordinator
Linda Schwartz - Special Events Coordinator
Lynda Laferla - Communication Coordinator

Check out the latest Husker sporting events in the Texas area by going HERE

Support your local chapter by getting your Nebraska License Plates.  Go to:
MYPLATES.COM and TXHUSKERPLATES.COM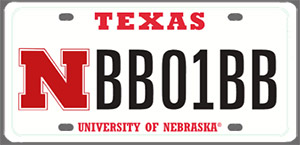 AND ORDER NOW!
Your Generosity is Appreciated
The Houstonians For Huskers Alumni Chapter depends completely on the generosity of our members. We are completely self-funded and we rely soley on our members to volunteer their time and energy as committee chairpersons. If you would like to donate any Husker memborabilia or game tickets for our scholarship raffles, or are interested in making a cash donation to help cover monthly chapter costs, let us know by emailing us at Houston Huskers, or visit with any Chapter Leader at the watch parties.